Description
The BerkelBike Pro
The BerkelBike Pro is a combination of a hand bike and a recumbent bicycle. The bike can be driven by the strength of both your arms and legs. The handles and foot pedals are connected so that it is possible to cycle by pedaling with the legs and holding the handles like a steering wheel. If you move the handles, the foot pedals move as well.
United States Patent Number: US 7,293,623 B2
James McKune (SCI, T6) talks about the BerkelBike Pro
Use the BerkelBike with functional electrical stimulation
HOW DOES A BERKELBIKE PRO WORK?
You can support the movement of your legs with the strength in your arms and shoulders. This allows your legs to cycle in a full circle, even if your legs have lost a lot of strength and coordination. During cycling, you can distribute the effort over all of your limbs, this means tired body parts can rest.
A ride with the BerkelBike counts as full body training. Both well-functioning body parts and limbs with reduced function can benefit from a bike ride. In addition, in combination with electrical stimulation, legs with little or no function can be moved again after a transverse lesion or any others neurological condition.
JOHNNY BEER TIMMS – COMPLETE SCI (C5/6)
"In 2011, I had a trampoline accident due to a failed back somersault. The result was a complete transverse lesion, so I could no longer move my arms and legs. Meanwhile, I can move some of my arms a little more. My hands don't work anymore and this causes many problems.
My interest in controling muscles through electrical stimulation brought me in touch with BerkelBike. This amazing bike with electric stimulation lets me cycle again with the muscles in my arms and legs. I can't move my legs, this is true, but this keeps me fit. I am even building up new muscle tissue! Personally, I believe that staying fit is extremely important for patients with a spinal cord injury. "
LISA GREEN ABOUT THE BERKELBIKE PRO
Lisa Green was a fanatic athlete for years, until she was diagnosed with MS in 1998. After her diagnosis, training became difficult for her.
"Last year, a friend told me about the BerkelBike. Obviously I was crazy when I could move again, also because I knew it was my own body that caused the movement! Of course my legs grew tired after a few miles, but then my arms could take over. I could ride more than 20 miles, through Colorado's beautiful autumn landscape. I enjoyed, to say the least, every second! I was very impressed after the test ride, it was definitely the highlight of 2012. "
Lizzie Tench (SCI, L1) about the BerkelBike Pro
Lizzie has always been sporty, unfortunately she had an accident when a car hit her with its trailer. After her recovery, she still wanted to exercise and after the first FES cycle failed to give her outdoor cycling and a full body workout, she decided to purchase the BerkelBike.
Improving health and assisting physiotherapy
Many people with various medical conditions are already using the BerkelBike Pro to improve their health. The most common disabilities among our customers are spinal cord injuries, multiple sclerosis, amputations, and brain injuries. Neuromuscular diseases
The BerkelBike was developed in cooperation with physicians, therapists, and researchers from rehabilitation centers in the Netherlands. It can be utilized in physiotherapy programs intended to help the patient regain strength and motion in impaired legs. During 20 minutes of cycling with the BerkelBike, each leg is bent about 1,000 times. Even when your legs can barely move on their own, the passive movement alone can help improve blood circulation in your lower extremities.
LUKE SINNOTT (AMPUTATION) ABOUT THE BERKELBIKE PRO
Luke Sinnott served as a captain of the explosives cleanup service in the province of Helmand, Afghanistan. During a mission he walked on a berm bomb that severed both his legs. "It felt like all life was flowing out of my body", he said. "I thought about home and didn't want to die like this." He lost both legs.
This year, Luke is one of the British athletes who participate in the World ParaAthletics Championships London 2017. He can easily ride the BerkelBike with his walking prosthetics. Luke got to know the BerkelBike on a trade fair, he was one of the first Berkel Bikers with an aluminum frame in England. Years later, he is still very excited about this solution to his mobility problem.
Cycling with a spinal cord injury – Electrical stimulation
If you are suffering from spinal cord injury, you can use the BerkelBike in combination with our FES-Box to enhance muscle mass and blood circulation, and thereby prevent problems associated with muscular inactivity in legs and buttocks. Thanks to the FES system, you will be able to ride the tricycle with the remaining power of your own legs and arms.
It is always possible to buy our wheelchair connector and use the front part of the BerkelBike Pro to convert your own wheelchair into a hand- and leg-driven tricycle (also see BerkelBike Connect).
THE BERKELBIKE PRO OR THE BERKELBIKE CONNECT?
The BerkelBike is available in two versions: Pro and the Connect. The Pro is comparable to a three-wheel recumbent, while the Connect is a single-wheel extension that you connect to your wheelchair to transform it into a full three-wheeler.
The BerkelBike Pro
The Pro was developed to cycle long distances at high speed. It is light, has little resistance during cycling and the wide wheelbase with a 9 degree frame curve provides extra stability. The seat height can easily be adjusted to the driver; high for a good overview or low for better stability. Especially with the seating area at a low position, it is possible to take turns at high speed without tilting.
The seat position can be quickly adjusted without tools. Even people with little mobility in the hips or people with overweight can sit comfortably by tilting the backrest downwards.
It is also possible to adjust the rear axle position, depending on your personal preference. Positioning the rear axle rearwardly results in greater pressure on the front wheel, making it less slippery and allowing you to ride safely uphill. Positioning the rear axle more towards the front, reduces the turning circle of the bicycle and provides easier maneuverability in the city.
The Pro can be easily disassembled without tools so that it fits into the car.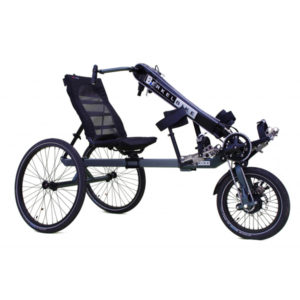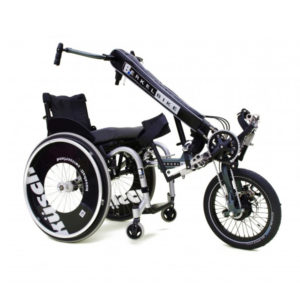 Photo: BerkelBike PRO (Left) en BerkelBike Connect (Right).
The BerkelBike Connect
The Connect has been developed for use in combination with your wheelchair. The greatest advantage is that you don't have to transfer from your wheelchair to the bike. This renders the Connect especially convenient for social and daily activities such as shopping, visiting friends and taking a ride in the park.
The Connect is smaller than the Pro and therefore even easier to carry in the car or store at your home. If you already have a regular hand bike that can be connected to your wheelchair, it is usually possible to link the Connect in the same way.
TRANSFORMING YOUR BERKELBIKE

You do not need to buy a new bike if you want to use the Pro instead of the Connect or vice versa. If you have already purchased the Connect, you only need to purchase the back part of the Pro. If you already have the Pro, you only need to purchase the connector to link the front part of the Pro to your wheelchair. If you want both, you can buy the Connect together with the back part of the Pro. You can then transform the Connect into the Pro without the need of any tools.