The BerkelBike Pro is extremely lightweight, making it super easy to lift it into a vehicle. On top of that, most parts of the BerkelBike come apart easy and fast. Within no time, you'll be cycling at a different location. Using all limbs has great benefits when cycling. You get a full body workout, both arms and legs move, you get more muscles, and you can use all your limbs to achieve the maximum amount of power you possibly can.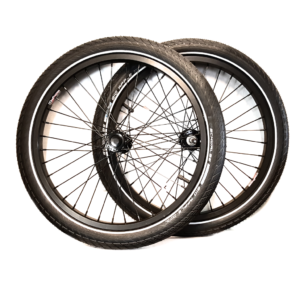 The wheels quickly detach by pressing the center button.
Quick release
The BerkelBike is equipped with a high number of quick release bindings. These make it very easy to adjust the cycle, but even more importantly,  it makes it super quick to make the BerkelBike compact. The quick release bindings allow you to take off your wheels and pedals in less than 10 seconds, and not a single tool is required! They also allow you to fold your BerkelBike in the most compact shape possible without any tools needed. This ensures that you don't need a special car to transport your cycle. The BerkelBike will fit in any car!
Seperating the BerkelBike
After being able to quickly release the biggest components and making the cycle as compact as possible, you'll still have a large frame. Not to worry, though! The BerkelBike Pro has a detachable backpart, which once again does not require any tools! Pull a single lever, press down two buttons, and your BerkelBike has been split. Now you can even more compactly transport or store your BerkelBike!
Super Lightweight
Now that your BerkelBike is in small, easy to fit pieces, it's time to put your cycle in your car. There is more than just the comfort of not having to lift a full cycle and being able to put it inside in pieces. The BerkelBike Pro is made from Lightweight Racecycle Aluminium 7005 T6. This is a very stiff and durable, yet surprisingly light material. This material allows you to easily load your vehicle with the BerkelBike and cycle more efficiently.