A letter to the backbone injuries department
A direct copy of an email sent by Paul to one of the staff members at the spinal unit.
Hi Craig. I have been asked to send you some info on FES bikes. When I was looking at FES bikes. I went for the BerkelBike for the following reasons:
The product is well made and well supported. It works really well indoors when combined with the rolling road and PC software. It's the only one I could find which had the electrodes built into shorts (The others are all stick on peel off!). You get your own training plan (supported by BerkelBike).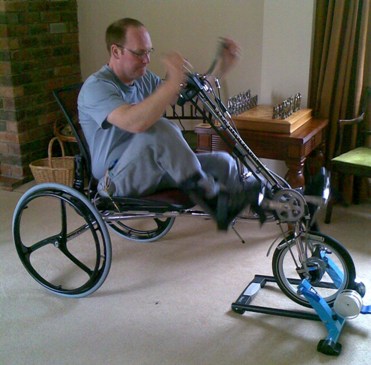 Why does Paul want to use FES?
"To keep fit and control my weight; to reduce the possibility of pressure sores; to give me some bum cheeks to sit on; to improve bone density; to reduce spasms, and to be able to ride a bike with my kids."
The downside of FES
"It's not cheap! The shorts are a good idea, but they are still a pain to get on (although still better than sticky pads). They are not cheap, and I am not sure how long they will last.
BerkelBike is based in the Netherlands. I received my consultation with the owner first hand (very impressive guy). You now have to go through UK distributors, and they are still going up a product learning curve. I should add the support I received from Da Vinci was very good.
I have been using the BerkelBike for about six weeks and I love it! I can set up and use the bike on my own. I have lost weight and I can see from my training plan that I am getting fitter and suffer from fewer my spasms. The hardest thing is having the discipline to do what my training plan outlines and not overdo it."
Update June 17th 2010:
"The cycling is going well, The summer is here at last; I am now biking outside and it is fantastic! I am now using the BerkelBike around our village lanes and I love it."