Thank you for your time and effort, Thank you for your incredible professionalism and for being you able to understand the needs of my son to has  this amazing bike!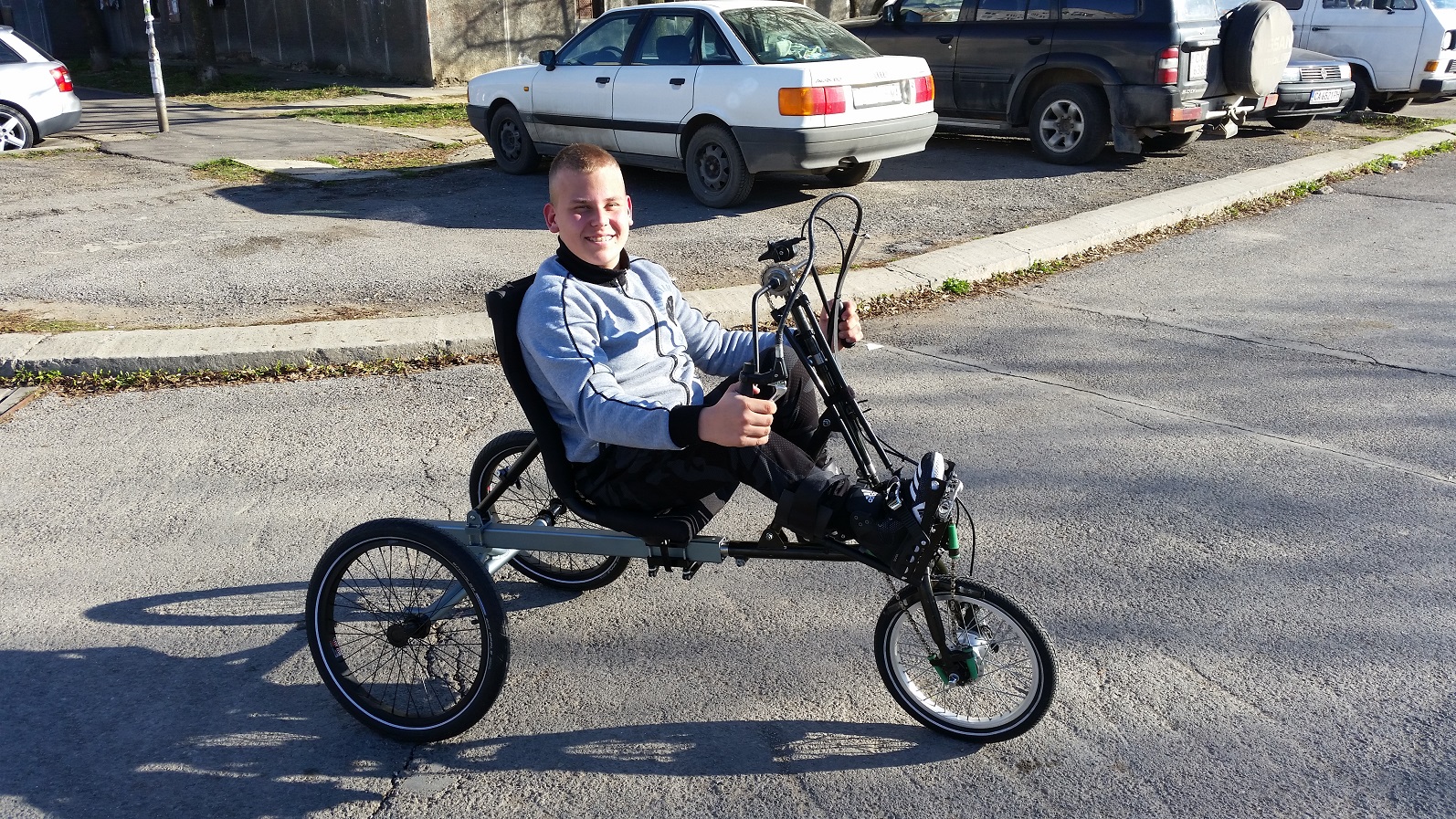 Once my son Tsvetomir get his berkelbike , purchased by benefactors from "Chaos Group" company, he was eager to ride the bike. He did not say anything other than UNIQUE! The whole family are happy and satisfied with the choice made. Berkelbike is the best! 🙂
Best regards from Bulgaria,
Daniela Yordanova
The company "Chaos Group" give us also a reaction:
It is impossible to describe how excited and happy the boy is. So are we. We are blessed that we are able make a child's dream come true! And thank you, because you are also part of that miracle.

Jacqueline Reijnders recently completed the Vierdaagse van Delden with her BerkelBike, despite of her muscle disease. She owns a BerkelBike Connect, and by training consequently, she managed to complete the 120 kilometres without any problems!
Introducing Paul
My name is Paul de Jagher, I'm 38 years old. In 2004, I got thrombosis in my right leg, which resulted in the post-thrombotic syndrome. One of the impediments is that I can't ride a normal bike. Within a couple hundred meters my right leg is painful and tired. Before the thrombosis, I could cycle within half a day from Rotterdam to Amsterdam.
Learning about the BerkelBike
An electric bike only has benefits for me on short distances. First, I thought about a normal hand bike, but an important disadvantage is that my legs were positioned downwards in the wheelchair and didn't move at all. This is not good for the blood flow in my right leg. Next, I thought about a recumbent bike, driven by my arms. My legs were on the same height as the seat, but still they were passive. At the Support Beurs in Utrecht (2010), I cycled on the BerkelBike, originally designed for spinal cord injury patients. This was very satisfying. Hereafter, I made an appointment for a longer test ride.

Making a decision
Finally I chose the BerkelBike Connect, which  I can connect to my wheelchair. In the meantime, I have cycled many miles, and even took the bike with me on vacations (sometimes by plane) to Dublin/Belfast en Berlijn. During transportation, I wrap vulnerable parts in plastic foil and then everything goes in blankets. At the airports, they are very careful with my bike.

Benefits of the BerkelBike
I have noticed that I particularly drive the bike with my arms, and that my legs move actively with less power. When my leg hurts, I stop for a moment and let my leg rest. At the museum and churches that I have visited, I could disconnect and park the bike-part and continue with the wheelchair alone. Due to the BerkelBike, I am now very mobile, it is sportive/therapeutic, and I can achieve way more.
The advantage of this bike for me is that the legs have a higher position than on normal bikes. The bike can be driven by arms or legs or both. When driven by arms, the pedals follow the movement, and the legs are moving. This stimulates the blood flow in my legs, which is good.
This woman has the hyper-mobility syndrome, and she has been wheelchair-dependent since 2001. She has had a BerkelBike Pro since October 2001. Here you see her favorite photos with the BerkelBike.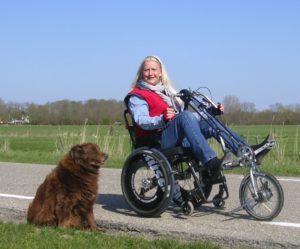 I have already enjoyed the bike. Beautiful and together with the dog.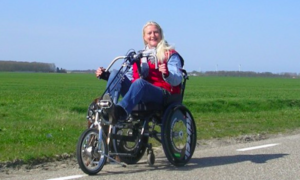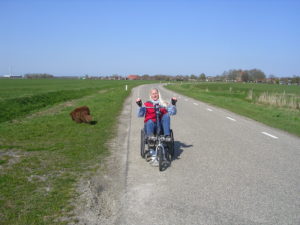 Dear BerkelBike,
My father (G. van Hul, May 7, 1947) asked me to send you an e-mail with his experiences with his BerkelBike.
He has purchased a BerkeBike, and he's very keen on it. My father was diagnosed with ALS. During the year that followed, walking and moving became difficult.
He has always been an avid athlete, and loved canoeing. He could be out in the water for hours. But he hasn't been able to do that in two years. Walking became difficult, and he now uses a walker. He's only able to walk a few meters inside the house. A physiotherapist visits him three times a week, to help exercise his legs. I am also a physiotherapist, and regularly advise him. For the last couple of months, he has suffered from spasms in the lower limbs. And up to half a year ago, he was able to cycle on his tricycle, weighted with weights to retain his balance. But spasms forced him to stop cycling.
He drove on a BerkelBike at a fair in Utrecht, and he instantly liked it. He decided to purchase a BerkelBike Pro, and now regularly drives around on it. He does need help with the transfer, though. Nevertheless, he is very satisfied, and regrets the fact that he didn't purchase his BerkelBike earlier.
The combined propulsion of the arms and legs makes it much easier to cycle. According to my father, the BerkelBike is a must for every other ALS patient who likes to cycle, but has difficulties with his or her legs.
Kind regards,
Valerie van Triest
Frederik Bakker receives the 200th BerkelBike!
Thursday November 22, 2012, nineteen-year-old Frederik from Urk received the 200th BerkelBike; a milestone. It took nearly six years to sell the first hundred BerkelBikes. That is nothing compared to the 27 months which were needed to sell the next hundred. We had an interview with Frederik's father.
Is Frederik able to walk?
He is only able to walk short distances indoors, using a walker.
Where did you first hear of BerkelBike?
We first saw the BerkelBike at a fair (Supportbeurs 2012) in Utrecht.
Why did Frederik choose for BerkelBike?
The nice thing about the BerkelBike is that Frederik is able to use his legs, due to the combined propulsion. By using the legs, he tries to keep them in shape, and perhaps even improve them. That's why we choose to buy the BerkelBike.
What are the physical limitations of Frederik?
Frederik has had cerebral palsy from birth. This is a disorder which is caused by damage to the brain during or before birth. This has reduced his hand and leg coordination.
Which model does Frederik use?
We have chosen the BerkelBike Connect with pedal assistance. This is the model that can be linked to the wheelchair. This way, Frederik does not need to transfer. Because he himself cannot connect the wheelchair to the BerkelBike, his environment should help him. We are now trying to teach people around him to do this.
What are the experiences so far with the BerkelBike?
Frederik has had the BerkelBike for only a few days. Last Sunday and Monday, he has cycled a bit. This went well. We are building up slowly with the cycling. Thus, we avoid overloading the muscles and joints.
Where does Frederik want to use the BerkelBike for?
The BerkelBike must ultimately be his transportation so that he can go cycling to work independently.
Bob has non-congenital brain damage, and therefore he is limited in his daily life. Because of the BerkelBike, he is less limited now. He wrote this article with his mother.
This is freedom!
Bob got his BerkelBike two years after the traffic-accident that made him wheelchair-dependent when he was twelve years old. His first reaction was: This is freedom! He can walk his own dog, and when we go out for a walk, he can decide where he wants to go. We were looking for a suitable bike for Bob for quite a long time. Because he is able to use his legs, we thought it was a shame to buy a regular hand bike.
A special kind of bike
A recumbent bike with three wheels was also an option, but we can't transport that with our car.  When we found the BerkelBike on the Internet, we knew that the BerkelBike was what we were looking for. The possibility of using  the BerkelBike as a hometrainer is a great benefit. Now Bob can cycle regardless of  what the weather is like.
The software that comes with the BerkelBike does not work well for us. Because Bob cycles irregularly and therefore is slow on average, the cyclist on the screen moves very slow. This is not motivating for Bob. But just cycling in front of the television is also fun.
Customization helps a lot
We admire all the things that could be changed on the BerkelBike, the grip for his right hand that prevents his hand from slipping away, and the support for his right leg that prevents his leg from falling to the side. It is fantastic to see how they have thought about these things.
The BerkelBike is an enrichment for Bob, it is a great workout for his legs, but it also gives him the freedom that is necessary for a sixteen year old boy.
Bob and Angeline